Kurz vor dem Schlafengehen melde ich mich noch einmal bei euch. Versprochen ist eben versprochen 🙂 . Ich hab mich heute mal durch alte miia-Beiträge gewühlt. Durch frühere Interviews, Gespräche und Briefe … in Wirklichkeit durch jede Menge Liebeserklärungen an eure Islandpferde.
Weil jetzt in diesen Minuten der "International Day Of The Icelandic Horse" zu Ende geht, kommt hier mein Beitrag zu diesem besonderen Tag. Einfach ein paar Zeilen aus insgesamt 455 Geschichten, die ich in den letzten eineinhalb Jahren veröffentlichen durfte.
Ich hätte noch viel mehr Zeilen gefunden. Ich finde aber, die ausgesuchten sagen eine ganze Menge. Vielleicht habt ihr ja Lust, die Liebesgeschichten noch einmal zu lesen? Ich habe sicherheitshalber die Namen mit den Beiträgen verlinkt, so könnt ihr sie ganz einfach finden. Einfach schöne Geschichten. Ich weiß schon … nicht immer ist alles einfach. Nicht immer ist es leicht. Islandpferde zu besitzen bringt manchmal das Leben ganz schön durcheinander. Davon kann auch ich ein Lied singen. Aber dennoch. Gerade heute hab ich meine Nase tief in Námas Fell vergraben und mich bei ihr bedankt. So, wie viele andere das sicher auch mal bei ihren Pferden getan haben. Aber lest am Besten selbst 🙂 :
"Er war das Tollste, was mir in meinem Leben passieren konnte. Wir steigen über alle Steine, die uns in den Weg gelegt werden. Er macht nie Fehler, und wenn einer passiert, dann war ich es." Anabel
"Ich sitze auf ihm, als wäre er schon immer für mich bestimmt gewesen, als hätte ich schon immer auf seinen Rücken gehört. Seine Bewegungen passen zu meinen." Nina
"Ja, und irgendwann war dann die Rechnerei beendet, die Zweifel ganz in meinen Hinterkopf gewandert, und die Entscheidung war getroffen." Steffi
"Dann bin ich sie zum ersten Mal geritten und mir war klar, sie ist das perfekte Mitreitpferd für mich". Lisa
"Nachdem der Tierarzt weg war, habe ich mich mit ihr auf der Koppel "unterhalten". Wir haben uns beide von unseren Unsicherheiten erzählt und von unserer Sorge – und da spürte ich es … unsere Familie hatte nun ein Mitglied mehr." Dorit
" … und ich bin sehr froh, dass ich mich unter all den vielen Pferden für sie entschieden habe." Caro
"Ich stehe jetzt noch oft ungläubig vor ihm, ich kann es kaum glauben, dass dieses semmelfarbene Tier wirklich nur mir gehört". Elena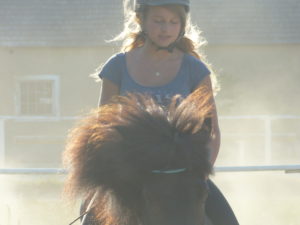 Hmmmm … da geht`s mir manchmal ein bisschen so wie Elena. Ich kann`s manchmal auch nicht glauben 🙂 .
So. Und jetzt geh ich mal schlafen. Gute Nacht, ihr Lieben! Oder soll ich schon guten Morgen sagen?