Auch wenn die Welt in diesen Wochen auf dem Kopf steht, möchte ich euch dennoch mit News aus unserer Islandpferdewelt versorgen! Gestern hat mir Antonia eine Mail geschrieben und mir berichtet, wie denn ein Tag im Islandpferdezentrum Ísdal in Niederösterreich so aussieht, wenn ein Virus die Welt in Atem hält. Ein Follow me around in Worten – wie es sich meine LeserInnen gewünscht haben.
Antonia hat mir am Samstag Abend geschrieben:
Um ca. 8:30h ging es los mit der ersten Runde "Pferde checken", unter die Decken der eingedeckten Pferde greifen, ob eh alle trocken durch die Nacht gekommen sind und auch sonst auf alle ein erster Blick, ob ihnen eh nichts fehlt.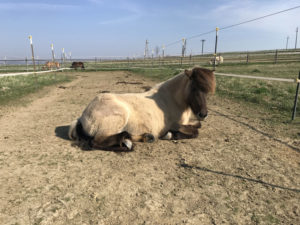 Dann haben wir erstmal gefrühstückt und – ganz wichtig – auch den ersten Kaffee des Tages getrunken. Nach einem Blick auf unsere To-Do Liste des Tages wurde kurz besprochen was alles ansteht, wer bekommt welches Futter, wer soll heute extra bewegt werden, und wer sind die heutigen "Horses of the day", eine Rubrik, die wir uns einfallen haben lassen, bei der wir täglich vier unserer Einsteller ins Rampenlicht stellen, um deren Sehnsucht nach ihren Pferden etwas zu befriedigen und auch in Zeiten des Fellwechsels die Pferde alle gut durchzubürsten.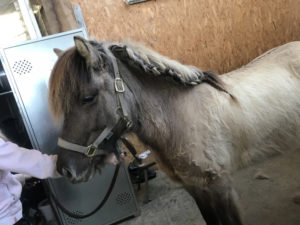 Die "Horses of the day" werden nicht nur fotografiert, sondern auch ausgiebig geputzt, sofern nötig eingeflochten (man glaubt gar nicht, wie heiß es unter einer dicken Isimähne wird) und bekekst, schließlich sind gerade alle Pferde CHRONISCH unterkekst, zumindest, wenns nach ihrer Meinung geht 🙂 . Danach geht es los mit dem zweiten Pferd, ausgiebig putzen, Mähne kämmen, Hufe checken. Das geht so mit allen vier Pferden des Tages.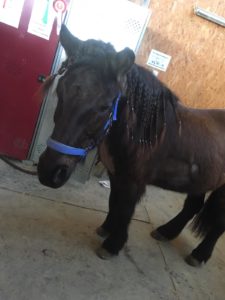 Währenddessen oder danach (je nachdem wie viele aus dem Team da sind) werden die unterschiedlichen Futterschüsseln nach den hinterlegten Rezepten der jeweiligen Pferdebesitzer befüllt und nach und nach alle gefüttert. Sofern nötig wird inhaliert + bewegt, oder nur bewegt, was gerade bei unseren Lungenpatienten (auf die wir ja spezialisiert sind) sehr wichtig ist.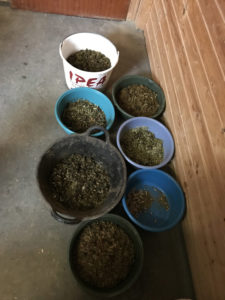 Dann folgt zu Mittag der nächste Check und dann geht's schon ziemlich hungrig in unsere verdiente Mittagspause. Der Speiseplan fällt heute eher deftig aus, immerhin ist es kalt und der Hunger groß.
Nach der Mittagspause geht es mit dem weiter, was vor der Mittagspause keinen Platz mehr gefunden hat, also putzen oder füttern, Pferde bewegen, nochmaliges Checken der Decken, ob sie denn eh noch trocken sind oder vielleicht umgedeckt gehören. Sofern gerade wer lieb am Trail spielt, spielen wir auch Paparazzi, um den Daheimgebliebenen zu berichten, was hier so alles passiert.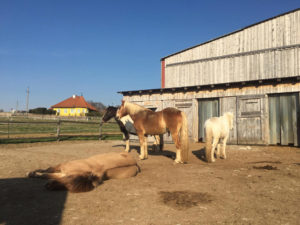 Bevor der Tag für beendet erklärt wird, wird der Wetterbericht gecheckt, ob die Deckenpferde gut gerüstet sind, oder doch lieber mehr tragen sollten und ein letzter allgemeiner Pferdecheck gemacht.
Danach geht es müde unter die wohl verdiente heiße Dusche und dann gibts nochmal ausgiebiges Abendessen (Beach Body braucht man bei der Isolation aktuell ja sowieso nicht, oder?).
Zwischen den Pferden werden auch unsere Hofkatzen ausgiebig gestreichelt, die momentan sehr unter Streichelentzug leiden, sind sie sonst doch die Aufmerksamkeit all unserer Einsteller gewöhnt. Den höchsten Verbrauch haben wir aktuell übrigens an folgenden Sachen: Pferdekeksi, Seife, Kaffee und Schoki.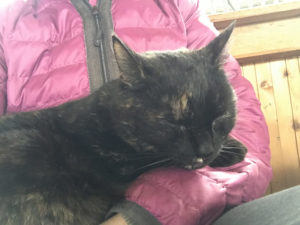 Was sich momentan auch mehr als bezahlt macht, ist unser Aktivstallkonzept, den ganzen Tag kann man den Jungs beim Spielen und Runden galoppieren zusehen (die Stuten gehen es eher gemütlich an, gehen aber auch ihre Runden). Wir halten so die Pferde und unsere Einsteller bei Laune und hoffen, dass alle die aktuelle Krise gesund überstehen, bereits jetzt wissen wir, dass, wenn alles "back to normal" ist, hier in Ísdal ein großes Fest steigen wird.
miia: Danke liebe Antonia für deinen Bericht aus Ísdal! Ich glaube, es werden viele Feiern und Feste gefeiert, wenn wieder alles "back to normal" ist. Aber jetzt heißt es erst mal, klug sein und viel Abstand zu Menschen halten. Damit möglichst bald wieder alles "back to normal" sein kann. #stayathome